The Morgan Lens by MorTan
Imported by
Stray Intermed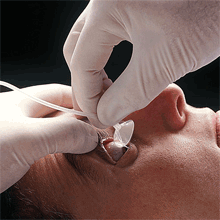 The Morgan Lens is a "MUST HAVE" standard equipment in Hospital Emergency Rooms. When emergency departments around the world are faced with Ocular Trauma, they turn to the most effective method of Ocular Irrigation, the Morgan Lens. Widely used by Physicians, Nurses and other Medical Personnel, the Morgan Lens delivers a continuous flow of solution to the injured eye within seconds, freeing medical staff to treat other injuries or to transport the patient without interruption. Consisting of a molded lens with directional fins, attached Tubing and Adaptor, the Morgan Lens provides lavage to the Cornea and Conjunctiva, instantly and effectively treating Chemical and Thermal Burns or helping to remove non-embedded foreign materials in the Eye. Attached to the convenient Morgan Lens Delivery Set or a standard IV setup and an irrigation solution of choice, the Morgan Lens is quick and easy to set up and provides an immediate hands-free Method of Irrigation. It saves Time, saves Trouble and saves Eyes. Key features
Ocular Irrigation
Treating Chemical and Thermal Burns to Eyes
Easily remove non-embedded foreign materials

The Morgan Lens provides lavage to the Cornea and Conjunctiva, instantly and effectively treating Chemical and Thermal Burns or helping to remove non-embedded foreign materials in the Eye.
The following equipment is recommended for bilateral eye-irrigation using the Morgan Lens:
The Morgan Lenses (# MT6673): one per eye
Topical Ocular Anesthetic (if available)
The Morgan Lens Delivery Set (# MT202) to be attached to one or two of the Morgan Lenses (#MT2000)
One or two Medi-Ducts (# MT63) one per eye or towels, blue pads, or another fluid collection device
Please note that Morgan Lenses (# MT6673) must be ordered separately and that the Delivery Set (# MT202) replaces a standard IV set. "The Delivery Set" contains two tubings, spike and drip chamber, and clamps to allow one or two Morgan Lenses to be attached to a single bag of irrigating solution. Note: Morgan Lenses are not included when ordering the Delivery Set MT202. Please call +47 38 02 04 07 for Pricing or
contact us for more information
Resources:
MorTan Brochure
Morgan Lens Instructional Chart
Competency Assessment
Sample Policy and Protocol
Contact us
for demonstration material.